02.10.19
An Open Letter to Rodney Peete:
Dear Rodney Peete:
Hope you're doing great! Our podcast, Sports Wednesday, is a weekly show where 3 Gen-X Dads give listeners a "medium-level" dose of Sports Talk.
Every few weeks, we draw a sports card from the Big Bucket o' Cards, talk about the players career and try to get them to come on the show for an interview.
Thus far, we have tried and failed to get:
Former NBA star Bonzi Wells (technically, he called in, but our recording tech failed us)
Former Cleveland Indian Alan Bannister
Former Oakland a Mickey Klutz (although he did autograph our card for us)
Former Chicago Bear Bob Asher
Former Pittsburgh Steeler Hardy Nickerson
So we are 0-for-6 on getting someone on the show. But we believe that you, Rodney Peete, will be the one to end that streak! Why? Because we didn't draw your card out of the bucket. Instead our host (and former AP award winning sportswriter) Pete Brown found it on the sidewalk while walking his dog Petey, as if the Universe placed it there for us to find: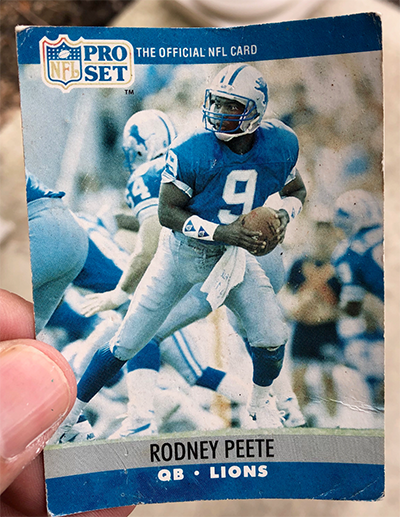 We're hoping you might like to come on our show for a 10-15 minute interview about your career and what it was like playing football during this timeframe. You would be the first pro athlete we've had on the show. We're a small but growing podcast, having just topped 7,500 downloads. Our audience has a slight bent towards the midwest and Generation X.
If you'd like to do it, just click here to let us know, or send us a dm on Twitter or an email to sportswednesdaypod@gmail.com. We'll work around your schedule, of course.
Many thanks for your consideration, and as always -
Good times -
Pete Brown, Matt Longley and Brian Hake
Sports Wednesday